Welcome to all …
At our meets we have a hall available each evening for folk dancing to live music and we share songs, poems and stories. If you play an instrument there are opportunities for you to join us in the band mostly using Pete Mac's books. At times, when space is available, we share crafts and games too.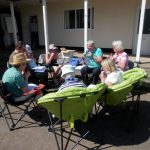 OUR NEXT MEET will be held at Carhampton Recreation Ground and Hall on the A39 near Minehead. A large flat field with access to toilets and showers and we have booked the hall for dancing and entertainment each evening. Blue Anchor Bay is within walking distance (or a short ride or drive) with beach walks, cafés and a West Somerset Railway station (40s weekend 14th & 15th). There is a bus stop just outside the entrance with buses to Taunton and Minehead and a useful local shop just a few yards away. Dates are Thursday 12th September for 4 nights. All C&CC members welcome. More details here.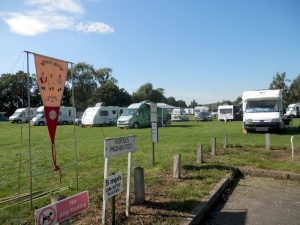 35 units turned out to Beckford Village Hall for 5 days over the August Bank Holiday weekend and what a fabulous weekend it was. Thank you to everyone who came and took part.

NEW YEAR 2019/20 – NOW FULLY BOOKED – waiting list available in case of cancellations; please use website contact form
And you can see a full list of our 2019 meets here and 2020 meets here
Our current fees are £7.50pun + £1.50ppn (except for special events)
Sites open at 1pm – please do not arrive before that
FDSG Autumn Gather ~ 27th-29th September at Camerton, Somerset, hosted by Wessex Area

CHARITIES In 2018/19 we donated £162.13 to Parkinson's UK as a result of our book exchange, and £136 was donated on our behalf by Group, being the proceeds of the raffle at the Group AGM Meet at Bromesberrow in 2018.
It was decided at our Member's Meeting in March that for 2019/20 we will be supporting Children's Hospice South West who run hospices in Somerset, Devon and Cornwall.

This website is published by the South West Area of the Folk Dance & Song Group, a Special Interest Section of The Camping and Caravanning Club
FDSG SW Area Secretary – Sue Jerram email: e4sej@icloud.com
Webmaster – Kevin Adams email: webmaster@swfolk.org.uk
The Camping and Caravanning Club
Greenfields House
Westwood Way
Coventry CV4 8JH
Tel: 024 7647 5448